Just how mean can Britain's Brexiteer Tory ruling elite get?  
It's a moot point, but the meanness of the British government's approach towards US President Donald Trump has been clear for all to see recently.
Vampirish Prime Minister Theresa May, who descended on Washington in an attempt to catch crumbs falling from Trump's table, defended her actions as pragmatic; it's economically and politically sensible to maintain good relations with Trump, she reasoned.
This is, from a certain perspective, a fair point. For, in a sense, all history is the history of struggle over resources. And you tend to align with whoever shares your economic interests. And if your electorate decide to catapult you towards severing ties with your natural, cultural trading allies in your own continent, you might have to look elsewhere.
In the British Library last week I picked up a book by journalist Paul Marshall called Prisoners of Geography, which is the latest example of works which explain geopolitics by reference to geography and climate and resources. This approach to history risks being reductionist, but helps explain things like the inevitable imperialism of Japan in the 20th c (given its lack of natural resources); the lack of war between India and China (thanks to the Himalayas); and the likely 21st century conflicts in the Arctic (oil reserves).
May's 'pragmatism' vis-à-vis Trump is in the same vein and there's a logic to it, of course. May' stance has been triumphantly trumpeted by other members of her cabinet since the visit, most notably the government's red-faced-reactionary-in-chief Sir Michael Fallon, secretary of state for Defence.
And yet. And yet.
Diplomacy doesn't have to be craven. Politics may be the art of the possible, but that is not synonymous with mercenary meanness.
Let's consider approaches to Trump.
To be clear, Trump is odious and should be challenged by the British government. May has failed to do this in any meaningful way.
His 'travel ban' – to take the most egregious example of his chaotic presidency – is not just racist and immoral, it's also ill-informed and counterproductive. And the denial of climate change is simply horrendous.
Having said this, I'm fed up with some of the pathetic anti-Trumpism. From the sneering celeb to the trendy protester, it's a badge of cloyingly liberal East Coast honour to be anti-Trump purely from a narrowly (neo)liberal perspective, and I've seen this at first hand in the States.
This ignores the fact that – whatever about the popular vote – he is the legitimate US President. It also ignores his radical potential to shake things up. Clinton was a dreadful presidential candidate, a hawk hand-in-glove with finance capital hiding behind celebrity endorsed wafer-thin liberalism and the very fact that she was a woman; she was an establishment figure who would play the gender card only when it suited (there's a great parallel with Theresa May here).
Whatever you may think of Trump – and many rightly oppose this thin-skinned narcissistic bully – he is doing a very rare thing for a politician and attempting to carry out his campaign promises in a full-blooded manner.
This is precisely why so many people voted for him – he's not a professional politician. He's not just there for career advancement, to become a contented member of the establishment. Many who oppose Trump, and other 'outsider' figures like Jeremy Corbyn, will never understand this.
But challenging Trump, for all that, is very important.
Standing up to Trump is not something that Britain's political leadership have the courage to do, not only because of the risible notion of the 'special relationship', but because they are professional politicians who don't let little things like principles get in the way of self-seeking.
In this regard, the Tory government is very different from the fundamentalist Brexiteer, deluded but at least principled.
British foreign secretary Boris Johnson may be a suck-up and a charlatan, as grasping and venal as his one-time cabinet colleague Michael Gove. But at least his careerism (Johnson only plumped for Brexit because he saw personal political gain from it) is a guard against the sheer delusion of the fundamentalist Brexit wing.
The fundamentalist Brexiteer is now a lesser spotted breed thanks to the fact that the mercenaries, the smooth political operators, the careerists have taken over the project. I'm referring of course to Prime Minister May et al, who actually opposed Brexit in the first place but now own it as a patriotic project.
By contrast, the fundamentalist Brexiteer can now be mainly spotted on the sidelines, usually outside the High Court protesting against the legitimate prosecution of British soldiers convicted of war crimes.
Nonetheless, an example of the establishment pro-Brexit loon was witnessed earlier this week on the BBC's awful but strangely compelling town hall debate show Question Time. Anne Widdecombe – Privy Councillor, former Tory MP and outspoken social conservative – was wheeled out and duly went about displaying some very bad history …
The abolition of slavery, said Widdecombe, took forty years or so but it was delivered. In the same way, she vowed, Brexit will be delivered whatever the legal and political prevarications
Now, Widdecombe is the sort of awkward country boutique conservative out of step with the PR-savvy May and her cabal, the sort of swivel-eyed believer in the holy grail of Brexit.
There's a certain charm to these fusty, fart-smelling old Tories when compared to their suave party leadership.
But comparing the Britain's 'independence' from Europe to emancipation? Good grief!
But Widecombe's bad history did remind me of an occasion when British attitudes towards America were motivated by moral principles as well as mercenary economic interest and where slavery was a big factor.
During the US Civil War of the early 1860s, the secessionist southern states gambled that withholding Cotton exports to Britain would have such a disruptive effect on trade that Britain could not afford to stand idly by and would be forced to intervene in support of the pro-slavery South.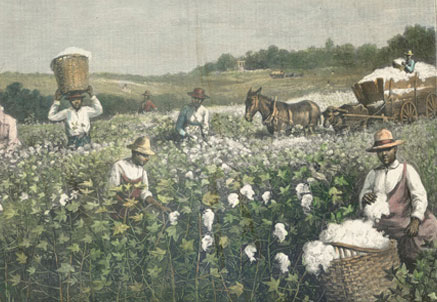 It was the sort of political calculation based on the immoral but reasonable logic of economic self-interest. With millions of British workers dependent on the Atlantic cotton trade, surely Britain's hand would be forced.
But it wasn't. Instead, the outcome of the American civil war was in no small part determined by the failure of the South's 'cotton diplomacy' and the triumph of Abraham Lincoln's naval blockade.
So, with the sort of 'pragmatic' economic logic championed today by May and Fallon and others, why did Britain not intervene to support the south and its lucrative trade in cotton? Why did the British political elite of the day not embrace Jefferson Davis instead of Abraham Lincoln?
The reasons are many. The moneymen of the City of London weighed their options carefully, on the one hand anxious about the losses from Cotton embargo, but on the other eyeing greedily the wheat coming across the Atlantic from northern Union territories. Meanwhile cities dependent on cotton, like Liverpool, considered a Pro-Confederate city, pressed for support of the South – not due to ideological commitment, but because of the economic interest of reopening the Cotton trade.
But economic self-interest was not the be-all and end-all.
Other cities dependent on cotton, in and around Manchester, for example, supported Lincoln even though it was against their economic self-interest.
This is quite remarkable because the collapse of the cotton trade led to a 'Cotton Famine' in Lancashire, with mass unemployment and hardship the consequence. Nonetheless, cotton workers out of work backed the anti-slavery stance of Lincoln for moral reasons.
Lincoln would later laud the 'sublime Christian heroism' of unemployed Manchester cotton workers who wrote to him urging him to continue the good fight despite it resulting in them losing their livelihoods.
Many workers had learned of the horrors of slavery through talks and pamphlets by escaped or emancipated slaves like the famous Frederick Douglass.
There is a leftist tendency to romanticise the workers as always on the 'right' side of history.
Nonetheless angry and bitter and disenfranchised working men didn't just revert to reactionary politics because it suited them and there were very few riots by angry mobs.  Workers really struggled, and would have had every reason to agitate for the South. But they didn't.
Gladstone later mentioned the 'stoicism' of these Lancashire cotton workers as an argument for the extension of the suffrage.
So, to return to Anne Widdecombe's comments about Brexit being like the fight to abolish slavery, I suppose you can see her bad history as informed by the idea that politics does not have to be based on economic self-interest alone.
In the same vein, people didn't vote for Brexit for purely economic reasons. Quite the opposite, in fact – the dire warnings from the Bank of England about the sky falling on everyone's head were not heeded by 52% of people.
The problem is that now Brexit is being pursued by those whose only rationale is economic self-interest. May et al, the mercenary political operators steering Brexit towards a ruthlessly reductionist economic and political 'pragmatism', almost show the true believers like Widdecombe in a good light.
What's perhaps most interesting about the very bad analogy between Brexit and the end of slavery is the stance of the captains of industry back during the Cotton Famine. Remarkably, owners of cotton mills – who had everything to lose from Britain not backing the slave-owning South – were in fact mostly radical nonconformist mill owners who took a moral stance against slavery. Like their workers, they took the ever-so 'unpragmatic' option of economic suicide because it was the right thing to do morally and politically.
It may sound a bit wet, but they thought about others first and put their own immediate material interests second.
Little evidence of that today. Where are the upstanding white knights of commerce?
For some, wearied and depressed by Brexit, a white knight arrived in the form of Gina Miller, a hedge fund manager who took the legal case against Brexit to the high court, and won.
And who was the noble captain of industry financing this crusade by an 'ordinary woman' against the government? Why none other than self-made man and chief executive of the plumbing giant Pimlico Plumbers, a cockney named Charlie Mullins.
Except Mullins is no radical nonconformist mill owner. In fact, he's just lost a court case himself. For Mullins was trying, unsuccessfully, to deny his workers their rights, claiming they are all 'self-employed'.
Some white knight.
What all of the above shows is how morally bankrupt and ill-informed much of British politics is today.
The deluded but principled Brexiteers have lost control of the whole mad project. Instead it's being controlled by the 'pragmatists'.
But pragmatism, it seems, dictates grovelling to disgusting and immoral men like Trump (or the Saudi regime, for that matter).
Having Theresa May in charge may be preferable to having the country run by the Anne Widdicombes and Charlie Mullinses of this world.
But I can't help feel that she is entirely lacking in moral courage.
A narrowly British 'economic pragmatism', let's remember, could also encompass celebrating the melting of the polar ice caps because it'll open up shipping trade routes, or celebrating China's horrendous smog crisis just because it opens up opportunities for wideboy businessmen to sell the Chinese bottles of fresh air from the Yorkshire dales.
And then, ultimately, we're all fucked.